Las Vegas is filled with romance and wonder. It's no mystery why it's known as the wedding capital of not just the country, but the world!
Wedding locations are as unique as the people who plan them. They can take the form of idyllic outdoor photoshoots, classic gazebos, or bombastic parties. While outdoor weddings are the most popular, mansion weddings are a fantastic choice for large volumes of guests who want plenty of room to dance, drink, and relax. 
What are the 5 best mansion wedding venues in Las Vegas, NV? That's just what we're going to look at below, all the better to kickstart your own search!
Mansion 54
Like a scene straight out of a movie, Mansion 54 is one of the best-known mansion wedding venues in Las Vegas. Also known as the Hartland Mansion, you'll have all the glamour of a motion picture in one convenient spot.
Originally purchased by famed soul singer Toni Hart, it would transform into a prime location for legendary weddings. Botanical gardens, glimmering pools, and smooth stone architecture are just a few of the locales you'll enjoy as you set up your wedding. The fancy reception halls are nothing to sneeze at, either!
Venue Breakdown:
Price ranges between $1,000 to $6,000
Glamorous decor and amenities make this location unforgettable
Full set-up available, including musicians, valet, security, lighting, and furniture rentals
Related: Las Vegas Hotel Weddings: The 10 Best Venues
Lotus House Events
Las Vegas is never short on options for unforgettable locations. Lotus House Events has everything you could want in a mansion with an extra dash of style.
Delicate landscaping, huge gardens, and a sleek look cement Lotus House Events as a prime choice. This mansion wedding venue has been carefully maintained to offer the best in contemporary services and products, including a list of specialized vendors and a full-service package.
If you're worried about a rainy day, lay those fears to rest: its indoor and outdoor receptions are dressed to impress!
Venue Breakdown
The price range starts at $3,500
Contemporary fittings mesh with elegant gardens and lots of indoor/outdoor variety
Full-package services offered alongside specialized vendors, such as chefs and musicians
Are your wedding plans starting to stress you out? Current Event Rentals helps new couples get their bearings, combining years of wedding planning expertise to make your special day unforgettable!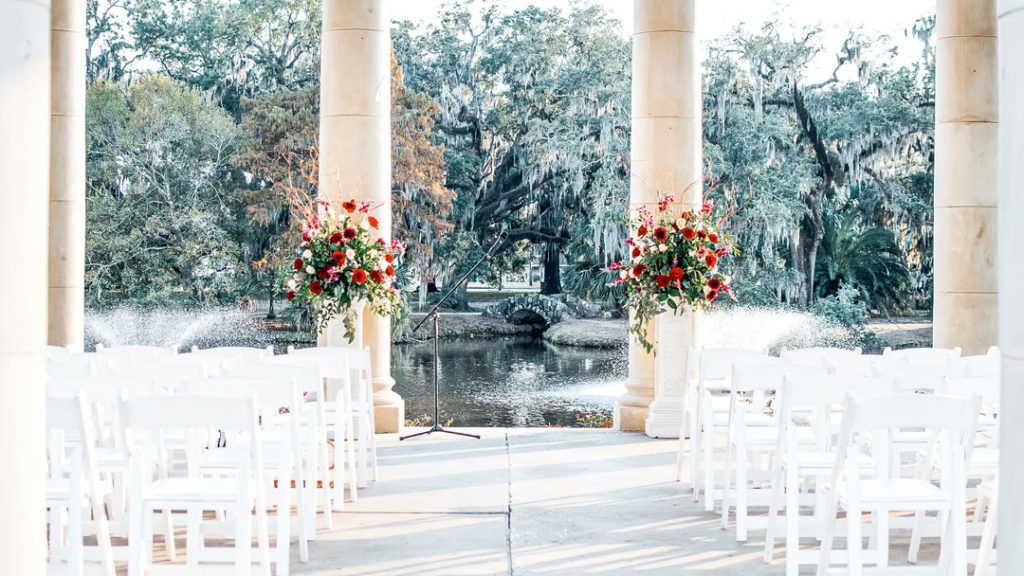 Corporate Mansions
Lush and fancy, Corporate Mansions is a vision straight out of a greeting card. If you want to put a little extra glitter on your special day, this is the spot for you!
Crafted after old Italian architecture and outfitted with an impressive lighting system, Corporate Mansions puts its best foot forward immediately. There are nearly a dozen rooms and a reception hall, designed to accommodate a solid 200 guests. This mansion venue is also used for parties, vacations, and special events.
Venue Breakdown
Large size for bigger weddings
Gorgeous architecture for fans of Italian art
Plenty of flexibility to be a prime bachelorette party or vacation spot
Related: Getting Married In Las Vegas? Take These 4 Necessary Steps
The Liberace Mansion
Do you want your wedding to look like a literal dream come true? The Liberace Mansion is a lesson in art history, boasting some of the most impressive decor you've ever laid eyes on.
You'll be greeted by an ivy-covered gate when you approach: once you enter, you'll be blown away by Liberace Mansion's marble glory. Gold filigree, elegant furniture, and stone pillars are just begging for a photo op…and that's before you experience the food! Hosting everything from weddings to tours, Librace Mansion's in-house wedding team is ready and waiting to assist you on your special day.
If you still want to shop around on the catering end of things, we have a handy list of the best wedding cake bakeries in Las Vegas.
Venue Breakdown
Flexible size for small to large weddings
In-house wedding team provided, including food and photography services
Stunning classical furnishings, sculptures, and gold decorations 
Palmyra Mansion
Thinking of going off the beaten path? Palmyra Mansion is a sleeper hit on our list of best mansion wedding venues.
Providing a plethora of gorgeous palm trees and red brick, this is a lovely choice for weddings that are on the simpler side. It's located in a prime location near hotels and casinos, giving you plenty of wiggle room for additional activities before the big day. If you're curious what restaurants you can pair with your trip to Palmyra Mansion, look no further!
Venue Breakdown
Prices are discussed on a case-by-case basis
Gorgeous, well-maintained grounds
Prime location in the Las Vegas strip for additional activities
Related: Top 10 Party Hotels In Vegas For Your Next Event
Where should you tie the knot in beautiful Las Vegas? Contact Current Event Rentals to start browsing the very best hotels, venues, and mansion weddings!