People love coming to Las Vegas because there are various ways to enjoy yourself. You can gamble, watch entertainment shows, and enjoy other tourist attractions that the city has to offer.
However, some individuals come to Vegas for more than the "normal" experiences. Instead, they come to Las Vegas to get married.
It's a dream come true for many people to get married in Las Vegas, but costs can be high. The average price for a Las Vegas wedding is roughly $17,000. Also, with people still recovering from the financial effects of the pandemic, it can be hard to find that kind of money to spend on a wedding.
So if you're looking to get married in Las Vegas and cut costs, here are ten cheap wedding venues that you should check out.
1. Cili at Bali Hai Golf Club
Have you ever thought about getting married on the Strip? If so, then Cili at Bali Hai Golf Club is a great location to choose.
Don't worry about the noise outside; the venue is set up in a way where you and your guests won't even remember you're on the Strip. In addition, their packages let you choose different venue areas where you can have your ceremony.
2. Lakeside Weddings and Events
If you want to get married in a scenic area, this is the venue for you. Lakeside Weddings and Events is located next to Lake Jacqueline, making it the perfect place to get beautiful photos.
Ceremony fees start at around $425 but will vary depending on the number of guests you'll have attending.
3. The Chapel at Planet Hollywood
The Chapel at Planet Hollywood is known for the famous 8-minute wedding ceremony between Elvis and Priscilla Presley. Since then, it's grown in popularity over the years.
This venue holds 65 people, so it's a good choice if you want to have a wedding of under 100 people. You can also custom design your perfect wedding with their customizable wedding packages. Ceremonies start at $400, depending on the package you choose.
Related: What You Need to Get a Las Vegas Marriage License
4. Bellagio
Located on the Strip, the Bellagio is another popular choice for people that want to get married in Las Vegas. There are a wide variety of packages that you can choose from to have the perfect ceremony.
You can also take advantage of the scenery around the venue. Right outside are the Bellagio Fountains, where you can take beautiful pictures along with the fountain show.
5. The Chapel of Flowers
The Chapel of Flowers is another Las Vegas Strip venue that boasts outdoor scenery and rustic venues to enhance the quality of your wedding. There are four different chapels to choose from, so you can find one that suits your wedding.
Also, if you want to spice up your ceremony, you can select one of their packages to have the ceremony off-site. So instead of a chapel or outdoor gazebo, you could be in the Grand Canyon or Valley of Fire.
Packages start at around $500, depending on your guests and other add-ons.
If you have extra money to spend on your wedding, check out this list of the best venues in Las Vegas!
6. Wynn Las Vegas
What are you looking for in a wedding venue? Do you want to have a ceremony and then leave? Or are you looking to enjoy the available amenities too?
If you said yes to the latter, then have your ceremony at Wynn Las Vegas. This venue has bars, restaurants, clubs, and a casino. So you can cut costs and enjoy your honeymoon there too.
7. The Little Church of The West
If you want to have a quaint wedding, you'll have no problem with the Little Church of the West. It's a small, historic church with elegant stain-glassed windows and a wood-beamed ceiling.
It holds 65 people, but you can add more if you choose to have your ceremony outdoors. Marriage packages start at around $200. So whether you're doing a simple elopement or a more meaningful ceremony, it's a solid choice.
Related: Getting Married in Vegas? Take These 4 Necessary Steps
8. Bear's Best Las Vegas
If you want to be close enough to the Strip but away from its madness, Bear's Best is a popular destination. From this venue, you'll still be able to see the flashing lights of the Strip on the Las Vegas night sky, and you'll have the sharp colors from the canyons nearby.
Once you select this venue, a personal coordinator is assigned to you and will help with all wedding planning, no matter how big or small the tasks are.
9. Mandalay Bay Resort and Casino
Mandalay Bay Resort and Casino is another popular wedding destination because of the packages that they offer. If you're traditional, you can have your ceremony in a chapel. But you can also get married on Mandalay Beach or under Shark Reef.
You'll also be able to enjoy the amenities that the resort has to offer, such as:
Gambling
Entertainment shows
Spa
Clubs
Packages start at around $900 and will increase if there are ceremony location changes and additional guests.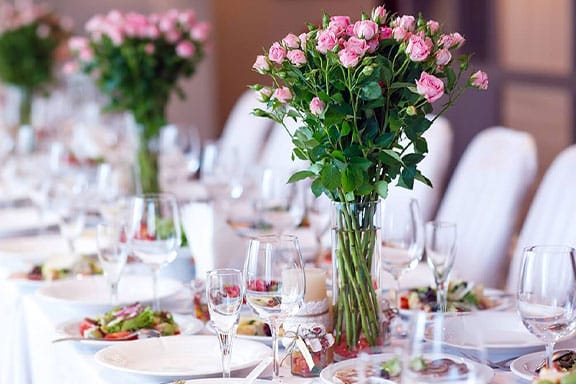 10. The Excalibur
If you're looking to have a lovely traditional church wedding, have it at the Excalibur. It's one of the prettiest chapels in Las Vegas with a medieval feel.
They have various packages which can accommodate any wedding. If you want to, you can also add on funky costumes that they have available. Plus, Elvis Presley will be performing your ceremony, so it's bound to be a great time.
Related: Things You Should NOT Do in Las Vegas
Choose One of These Venues For Your Las Vegas Wedding
You don't have to spend a substantial amount of money to have the Vegas Wedding of your dreams. Check out the ten venues we listed above and see which one is suited to your budget. Enjoy your new marriage and those extra dollars in your pocket.
If you're looking to hold an event in Las Vegas, contact Current Event Rentals to ensure you have a quality experience!