Are you planning a trip to Las Vegas and want to know the best buffets to try out while exploring the Strip or preparing for a special event? One thing's for sure; you aren't going to find yourself strapped for choices. Here are some of the top ten buffets you need to consider trying on your next Vegas excursion.
Bacchanal Buffet
Source: https://www.caesars.com/caesars-palace/restaurants/bacchanal-buffet
Caesars Palace is an iconic Las Vegas hotel and casino that also features the spectacular Bacchanal Buffet. Ranked by USA Today as the number-one buffet in Las Vegas, their team of specialized chefs can whip up a massive range of delicious culinary creations from all over the world. Whether you're craving Italian, Chinese, Mexican, or American comfort foods, the Bacchanal should be on your list of restaurants to try out.
Wicked Spoon Buffet
Source: https://vegas.eater.com/2021/3/12/22327256/wicked-spoon-buffet-reopens-march-25-las-vegas-strip-coronavirus-pandemic
Located inside The Cosmopolitan of Las Vegas, the Wicked Spoon is a modern yet elegant restaurant where you're free to try a little (or a lot) of every delicious morsel you lay your eyes on. Check out each of their sections dedicated to Italian and Asian cuisine, salads, seafood, and more! Just make sure to save some room for their massive dessert bar as well.
The Buffet at Wynn
Source: https://www.wynnlasvegas.com/dining/casual-dining/the-buffet
The buffet located inside Wynn Las Vegas is a lovely establishment featuring a large fountain of chocolate and a seemingly endless supply of decadent sweets. Before digging into dessert, though, try any of their 120 specialty dishes ranging from fresh sushi and braised short ribs to tacos and Frank Sinatra's family recipe for spaghetti and meatballs.
Related: Best Places to Eat in Las Vegas on a Budget
The Aria Buffet
Source: https://www.mgmresorts.com/en/restaurants/aria/the-buffet.html
Located inside the beautiful Aria Resort & Casino, the Aria Buffet features a selection of delicacies from all over the globe. Their Indian, Mediterranian and Latin cuisines will introduce you to an entirely new world of delicious tastes that you won't be able to get enough of. Follow your main meal up with a trip or two (or five) to their specialty dessert table to satisfy your sweet tooth.
Studio B Buffet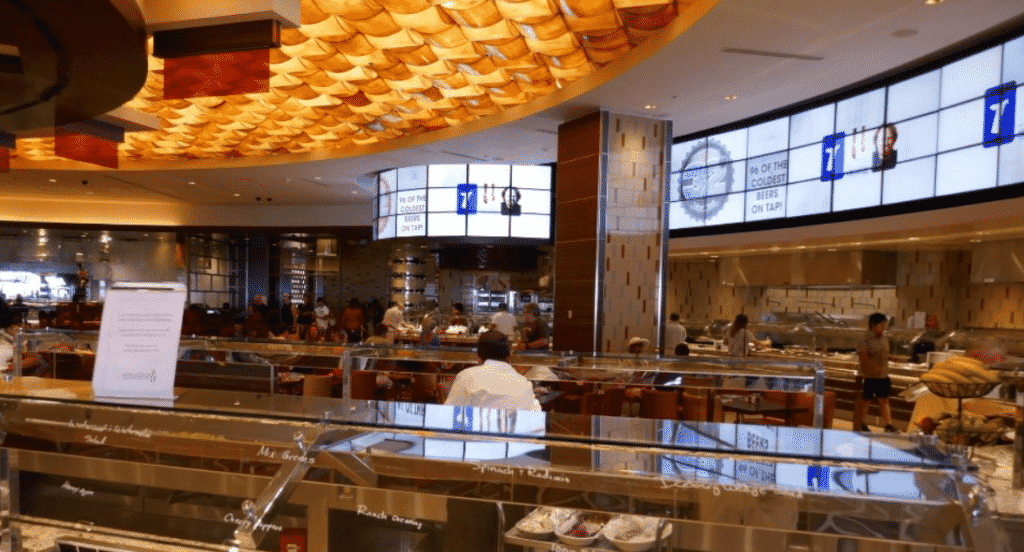 Source: https://www.tripadvisor.com/Restaurant_Review-g45953-d4346263-Reviews-Studio_B_Buffet-Henderson_Nevada.html#photos;aggregationId=101&albumid=101&filter=7&ff=220778871
The M Resort is proud to present its specialty Studio B Buffet, where over 200 unique items are prepared directly in front of hungry customers daily. They offer everything from fresh, woodfired pizza, to sushi, to classic Las Vegas prime rib. Enjoy your meal with complimentary wine and beer as you eat your fill and take in the breathtaking view from one of their bay windows.
Are you looking for a top-quality rental service for events and weddings in Las Vegas? Take a look at the services offered by Current Event Rentals today, or reach out to [email protected] to learn about what they can do for you.
Cravings
Source: https://mirage.mgmresorts.com/en/restaurants/cravings.html
Located inside The Mirage hotel, the Cravings buffet features itself as "the ultimate buffet," with eleven food stations covering different regional cuisine and food types. Be sure to take advantage of their unlimited wine and beer with your meal as you try out all of the delicious food they have to offer.
Related: The Top 10 Most Romantic Restaurants In Las Vegas
The Bellagio Buffet
Source: https://bellagio.mgmresorts.com/en/restaurants/the-buffet.html
This buffet at the beloved Bellagio hotel features many memorable meals that you aren't likely to find at other Las Vegas buffets, such as rotisserie chicken, salmon roulade, and ahi poke. Also, don't forget to try out their massive selection of seafood, salads, and desserts, including their specialty chocolate Nutella parfait.
The Feast Around the World Buffet
Source: https://www.lasvegasadvisor.com/restaurants/feast-buffet-green-valley-ranch/
Located inside the Green Valley Ranch Resort, The Feast Around the World Buffet is precisely what its name implies. They offer a top-quality Vegas buffet experience for an impressively low off-the-Stripe price. Check out their six live-action cooking areas and watch as their expert chefs prepare whatever it is your craving.
The Paris Le Village Buffet
Source: https://www.caesars.com/paris-las-vegas/restaurants/le-village-buffet#.YGdVMK9KhPY
Found within Paris Las Vegas, this special French-inspired buffet has undergone great efforts to bring five provinces of France to life at each of their unique food stations. No matter what you order, however, be sure that you leave plenty of room for their specialty made-to-order crêpe station at the end of your meal.
Related: Top 10 Best Caterers in Las Vegas
The Carnival World & Seafood Buffet
Source: https://www.caesars.com/rio-las-vegas/restaurants/carnival-world-and-seafood-buffet#.YGdV_69KhPY
The Rio All-Suite Hotel & Casino Carnival World Buffet is the last- but certainly not the least buffet on our list. They feature live food preparation stations where you can watch their expert chefs create made-to-order specialties from all over the world. If you've got a craving for seafood, this is the buffet you're going to want to check out first.
Are you trying to find a quality event planning service for your big Las Vegas trip but aren't sure where to turn? Take a look at the amazing services offered by Current Event Rentals or reach out to [email protected] today to learn more about what they can do for you.